Purple Mash and Mini Mash
We subscribe to an excellent multimedia learning tool called Purple Mash.
Purple Mash hosts an exciting 'mash-up' of curriculum focused activities, creative tools, programs and games to support and inspire creative learning every day. From poems to newspapers, masks and 3D models, animations and textured paintings, Purple Mash strongly supports our curriculum activities.

As Purple Mash is online, children can continue their learning anywhere and anytime, using PCs, laptops, or tablets. Each pupil has received an individual login to save and retrieve his/her work. These should remain confidential and allow you and your child unique access. If you would like a reminder of your child's login please ask your child's class teacher.
Within Purple Mash you will find:
Mini Mash – An area specifically designed for children in the Early Years.
All of our Nursery and Reception children have recieved a log in for Mini Mash.
Creative Tools – Ranging from simple painting programmes to sophisticated coding tools.
Games – There are a variety of games that are really fun to play but also help children to practise their Maths and English skills.
Saving opportunities – Purple Mash lets your child save their work online. This facility also allows children to access their learning from school and continue it at home.
Please click on the link to the school's portal to Purple Mash:
www.purplemash.com/nevill-infant
Please click the links below for more information:
https://www.youtube.com/watch?v=ZOiu1dhTj5c - A Parents' Guide to Purple Mash
https://www.youtube.com/watch?v=ya-6X32NzyU - A 30 second look at Mini Mash
https://www.youtube.com/watch?v=UFJHcUP6PNw - Another 30 second look at Mini Mash!
We encourage all of the children to follow the SMART rules.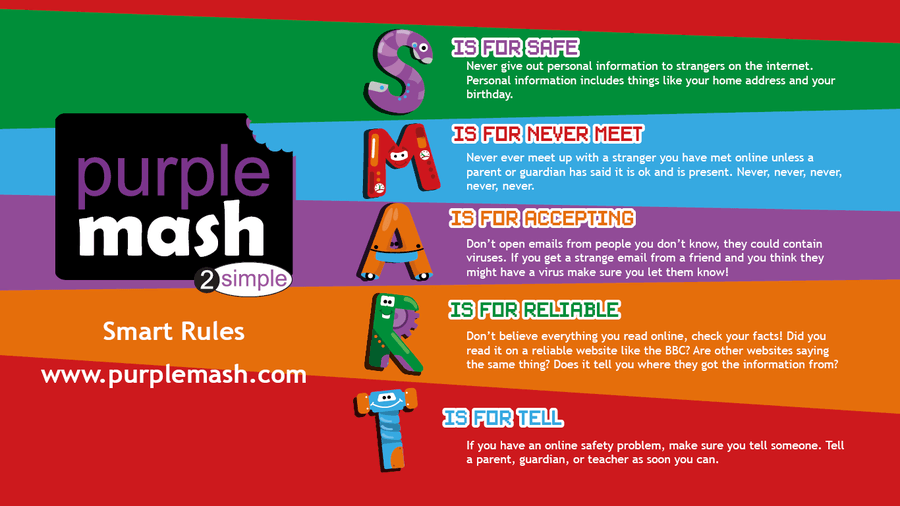 Files to Download